Today we hiked to the summit of Sargent Mountain in search of Snowy Owls. With its peak at 1,373 feet, Sargent is the second highest mountain on Mount Desert Island after Cadillac Mountain which is slightly taller at 1,530 feet. Snowy Owls have been sighted this winter on both mountains in Acadia National Park, though we did not see any during our hike on Cadillac last month. But today, just after reaching the top of Sargent, we were rewarded first by seeing a nearly all white male owl, and later by seeing a darker female or possibly a juvenile male. Only carrying my Canon 5D2 camera and 40mm pancake lens, I was not equipped to photograph these Artic creatures, but we could see them clearly through Janice's awesome Nikon 8X42 Monarch 5 binoculars. Watching these birds basking in the sun and turning their heads 180 degrees is a sight to behold.
We began our hike by driving to the Norumbega Mountain pullout on Route 3. At 8:18 AM with no other cars in the parking area, we donned our trail crampons, walked across the highway, and got onto the trail. The sun was shining, the sky was blue, and temps were in the mid-twenties. Our route took us up the Maple Spring Trail, under the carriage road at the Hemlock Bridge, and up to Gilmore Peak where we were treated to magnificent views. From there we followed the remarkably steep Grandgent Trail to the summit of Sargent Mountain. At the top we got a fantastic perspective of Eagle Lake where I shot last week's panorama of ice fishing. After enjoying watching the owls and having a well-earned lunch, we got onto the Sargent South Ridge Trail. From the ridge you can see our town of Southwest Harbor and barely make out our house. Continuing our descent, we reached the Hadlock Brook Trail which brought us once again to the carriage road, but this time at the Waterfall Bridge where the waterfall was frozen solid. From the bridge it was less than a mile back to the car.
During this adventure we hiked just 4.4 miles, but ascended 1,390 feet according to my GPS. Most of the trail was firmly packed snow with a few notable exceptions where there was sheer ice, exposed granite, or deep sink-to-your-crotch snow. Total trip time was just under five hours, but that included frequent stops to take pictures, enjoy the owls, and eat lunch. We met three other hiking parties: a single women, two guys, and a guy with two women. We spoke with everyone and learned that all were there hoping to see a Snowy Owl. We were blessed to see two and for that we feel very fortunate.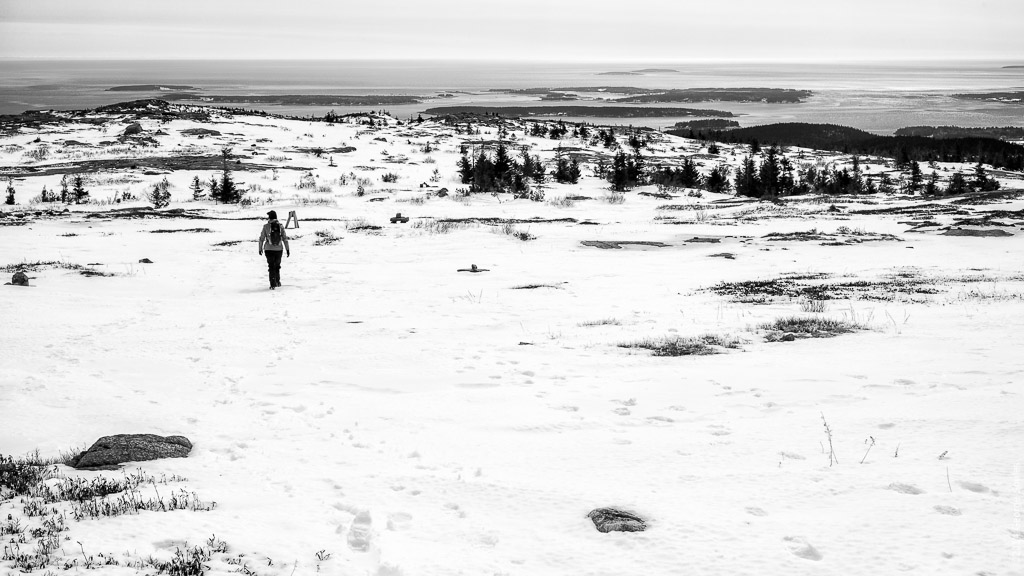 Click an image above to see a larger picture