This spring I photographed more than 30 scenes in Southwest Harbor, Maine for a "Then & Now" exhibit held at the Southwest Harbor Public Library during the month of July. The "then" photos came from the library's Collection of Photographs and most dated from the late 19th and early 20th centuries. In the exhibit, the then and now images were paired and accompanied by a description of the subject. To create a consistent look among the set of "now" images, I opted to process all of them in black & white.
I attempted to take each photograph at about the same time of day as the original and from the same location where the "then" photographer stood. Shooting from the same location proved impossible in many instances because of obstacles such as buildings or trees that exist now, but were absent then. I shot primarily with a Canon 5D Mark III DSLR camera and Canon 24mm and 45mm tilt-shift lenses. A tilt-shift lens on a DSLR allows a photographer to make perspective correcting adjustments that are otherwise only possible with view cameras (the old timey looking ones with leather bellows) which were commonly used during the era of the "then" photos. These special lenses (and view cameras) ensure that vertical lines in the scene appear vertical in the photograph. With regular lenses, the vertical lines converge toward the sky and make buildings look like they are falling backwards.
If you are unfamiliar with Southwest Harbor, these photographs might make you think no one lives here. That's because I deliberately went out shooting early on Sunday mornings when people were still sleeping. I wanted clear streets so that buildings were not obscured by cars. Trust me, during the week, especially in summer, this sleepy village comes alive and you'd better look both ways before crossing the street. To see more photos of the area, you can looks at some of my other Southwest Harbor blog posts. Below are some of my favorites from the "Then & Now" show. The library expects to eventually publish a book and CD containing the complete set of photographs and text from the exhibit. If you are interested in having a copy, please contact the library.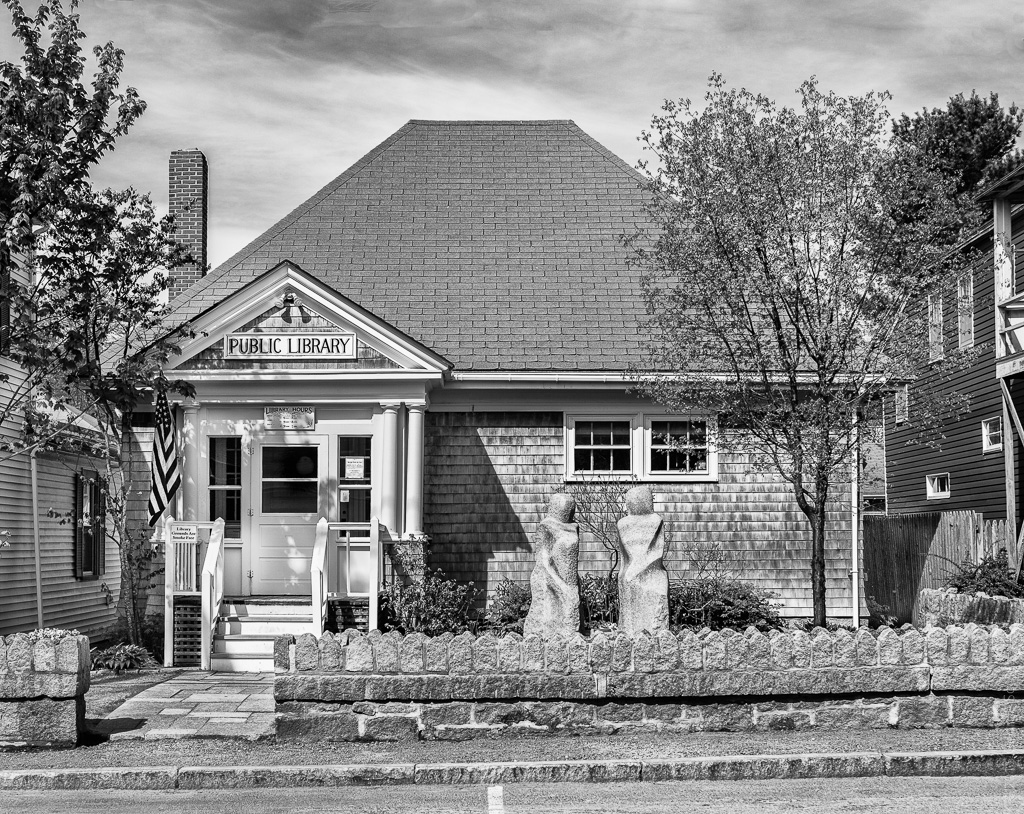 Click an image above to see a larger picture