The lighthouse in Bass Harbor, Maine is one of the most photographed features on Mount Desert Island. Most images are of the lighthouse itself, taken from the shore below, but today I'm sharing a few that I shot from vantage points where few people are allowed to stand. Once or twice a year, the United States Coast Guard opens this historic site to the public for a few hours. The photos here are from my visit on September 12, 2015, plus one image I shot last year with my iPhone from a boat.
According to Wikipedia, the history of Bass Harbor Head Light dates to 1855, when it was determined that there was sufficient reason for a lighthouse at the mouth of Bass Harbor. In 1885, the U.S. Congress appropriated $5,000 for construction of the lighthouse. In 1876, construction was completed on a fog bell and tower, since removed. A much larger 4,000-pound bell was placed inside the tower in 1898. The house of the light-keeper remains in its original configuration with the exception of a 10-foot addition that was added in 1900. The original fifth order Fresnel lens was replaced in 1902 with a larger fourth order that you see in the large image below.
A week before I took these pictures, Janice and I kayaked from Bass Harbor to Placentia Island, over to Great Gott Island, and back. In the large image below, looking from the lighthouse, Great Gott is on the left and Placentia is on the right. The last image below shows the view from Placentia toward Mount Desert Island. The harbor of Bass Harbor is about 1/3 of the way from the left of the photo, and you can just make out the lighthouse about 1/3 from the right. The distance from Bass Harbor to Placentia is three miles.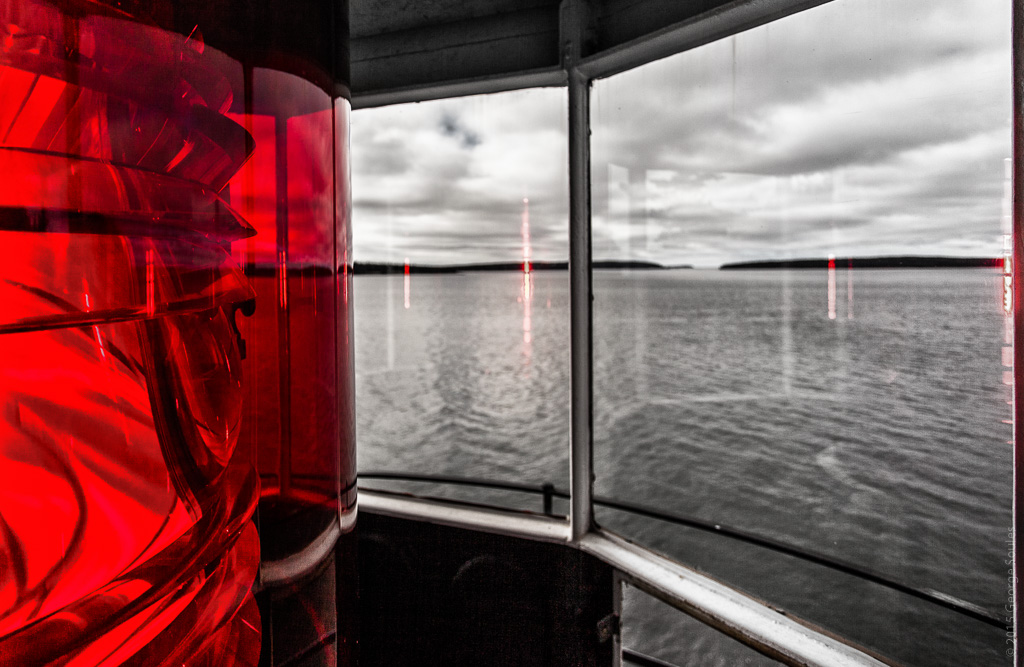 Click an image above to see a larger picture